---

The Spy Who Loved
The Secrets and Lives of Christine Granville
By Clare Mulley

The Untold Story of Britain's First Female Special Agent of World War II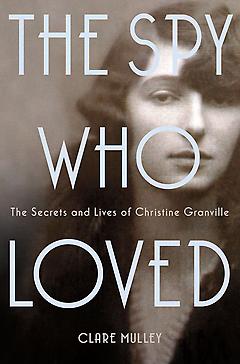 In June 1952, a woman was murdered by an obsessed colleague in a hotel in the South Kensington district of London. Her name was Christine Granville. That she died young was perhaps unsurprising; that she had survived the Second World War was remarkable.

The life of the beautiful, fiercely brave, and spirited Christine Granville has gone largely unnoticed by the American public until now with the publication of Clare Mulley's THE SPY WHO LOVED (St. Martin's Press, June 11, 2013). This well-researched and fascinating biography of Ms. Granville, Britain's first female special agent of World War II, provides an intimate portrayal of the charismatic woman who saved many lives, broke many hearts, and time-and-again risked her own life to fight for freedom against the Nazis.

Born Krystyna Skarbek on May 1, 1908 in Warsaw, Poland (and interestingly enough a relative of composer Fryderyk Chopin), Christine inherited her father's zest for adventure, taking up horseback riding and skiing at an early age. Little did she know that as a young woman during World War II she would utilize her skill on the slopes to ski from Hungary over the steep snow-covered Tatra Mountains to Nazi-occupied Poland on several top secret missions, including an unsuccessful attempt to help her Jewish mother escape from the Nazis.

Christine's "joie de vivre" as a child manifested itself into a need to do all she could to assist the allies. Fleeing to Britain at the outbreak of World War II, she was recruited by the intelligence services and took on mission after mission, parachuting into occupied France, serving in Egypt and North Africa, and helping to organize a system of Polish couriers who brought intelligence reports from Warsaw to Budapest. Her courage, quick wit, and determination won her release from arrest more than once, most notably when she feigned symptoms of pulmonary tuberculosis by biting her tongue until it bled, saving herself and one of her many lovers, Polish army officer, Andrzej Kowerski, from the Gestapo. The intelligence she gathered during the war was a significant contribution to the Allied war effort, and she was awarded the George Medal, the OBE, and the Croix de Guerre.

It was a miracle that Christine survived the war but in an ironic turn of events when she was murdered in a hotel in the South Kensington district of London by an obsessive colleague whose advances she rejected. Charismatic and fearless, Christine was an extraordinary woman whose legacy lives on through Mulley's writing.

Clare Mulley is the author of The Woman Who Saved the Children: A Biography of Eglantyne Jebb, which won the Daily Mail Biographers' Club Prize. She is a member of The Social History Society, The Voluntary Action History Society, The Women's History Network, The Royal Society of Literature, The Biographer's Club, The Society of Authors, English PEN, Walden Writers, The Fawcett Society, and The National Secular Society. Mulley is a seasoned public speaker and literary chair, with extensive experience making presentations and lecturing in academic conferences, literary festivals and museums throughout the UK. She lives in London with her family.


The book is available in many stores and online. Here is a link to the book on Amazon

A book review in the NY Times